Agile At Scale Leadership & Transformation
with the Scrum@Scale Framework
The Garden-A St Giles Signature Hotel
Ethan Soo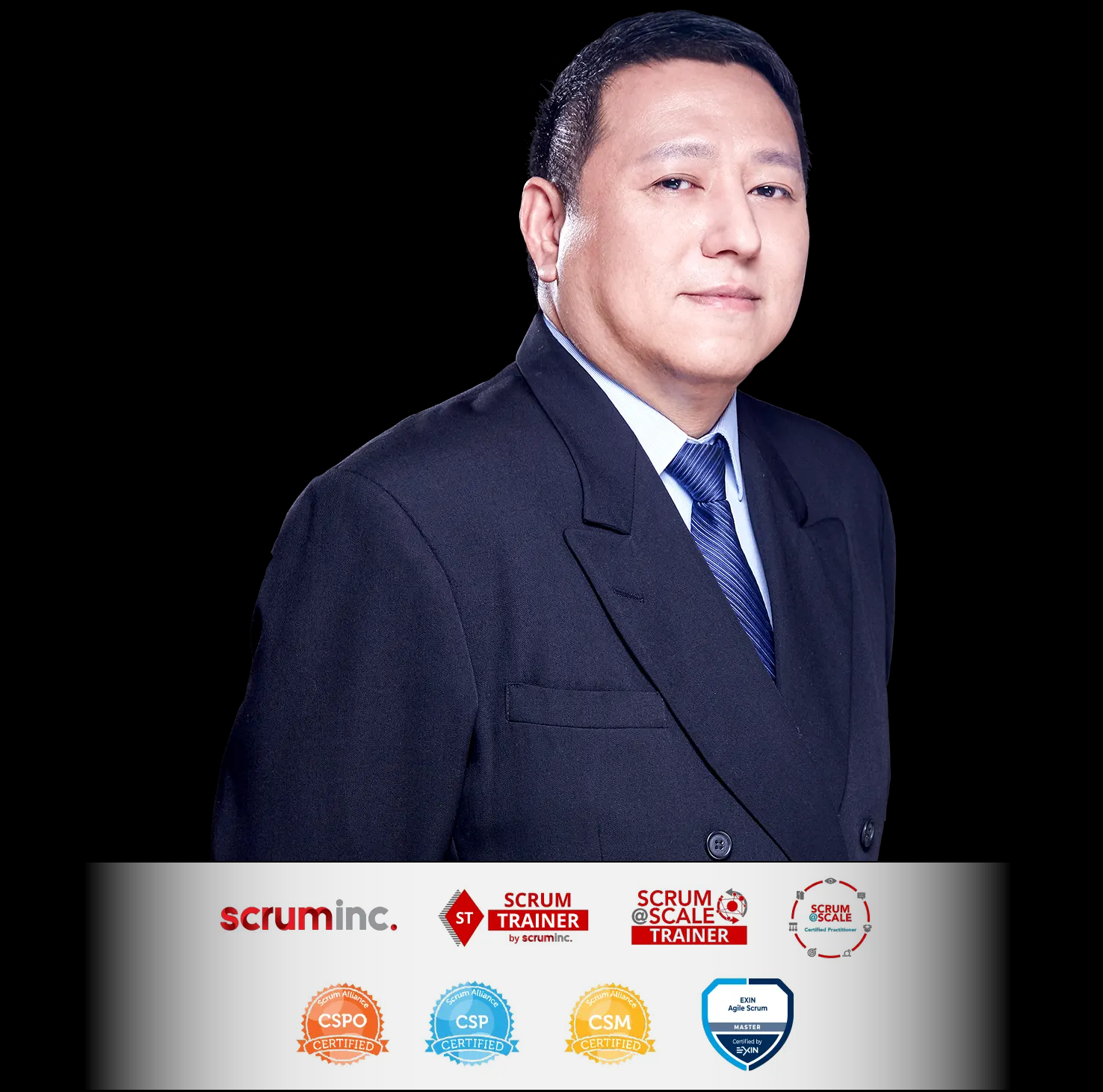 DETAILS
Course Objectives
Cultivate an Agile mindset by adapting to change and delivering incremental value.

Understand how True Scrum is different from traditional waterfall project management and how to form the basis of Scrum@Scale teams.

Learn the importance of team collaboration, and how to facilitate better team performance.

Maximizing business agility and productivity with Scrum@Scale.

Effective agile leadership with proven results with Scrum@Scale.
Key Takeaways
At the end of the course, the participants will be able to:
Foster a culture of innovation and collaboration to unlock success at scale by becoming an Agile Leader.

Optimize your organization to capitalize on opportunities and confidently adapt to challenges.

Intentionally design the journey to becoming an Agile Leader rather than leaving it to chance.

Explore Design Thinking, Lean start-ups, and Scrum to ideate and create winning products.

Combine these frameworks to maximize the impact of Agile leadership in your organization.

Use the Scrum@Scale framework to transition to an Agile organization with a low-cost, low-risk change process.

Enjoy a fun, dynamic, and highly interactive course with eye-opening knowledge and immersive workshops.

Gain impactful know-how to improve your organization through Agile leadership.
Who Should Attend
This course is suitable for:
Business leaders and managers who want to improve business results in their organizations.

Business owners, CEOs, COOs, CFOs, Presidents, VPs, and AVPs seeking modern techniques to gain a competitive edge in their product creation and delivery.

Strategic Planning Officers, Transformation leads, and Agile Coaches who want to lead an Agile transformation.
This is an intensive hands-on 1 day course, where participants are expected to do prior readings, class preparation and to engage actively in class discussions and/or projects.
Prerequisites
Experience in managing teams

Familiarity with the organization's business model

Openness to change
What To Prepare Prerequisites
Bring Your Own Laptop - Participants are required to bring your own internet-enabled laptop

Complete The Pre-Class Reading - Participants are expected to complete the designated pre-class readings on the learning portal, prior to attending the class.
Certification
Registered Scrum@Scale Fundmentals Certificate
Participants completing this course will receive a professional certificate of Registered Scrum@Scale Fundamentals from Scrum Inc. Agile Education Program. This certificate validates the participant's knowledge of the Scrum@Scale framework, which is an extension of the widely used Scrum framework for scaling Agile practices across organizations. The certificate can enhance the participant's career in Agile and Scrum-related roles. Learn to use all the related tools, walk into a job and be a rockstar from day one. The skills you need to become a real professional. Thrive in your career.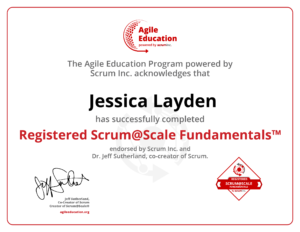 Terms and Conditions
Refund Policy
• Refunds are not available for training courses that have been purchased.


Cancellation and Postponement
• CI Agile reserves the right to reschedule or cancel a class/session due to any unavoidable circumstances or change the location of a class.
• CI Agile will notify participants of any cancellations or postponements as soon as possible.


Withdrawal
• All registrations must be confirmed two (2) weeks before the commencement of the course.
• Once a registration is confirmed, NO CANCELLATION IS ALLOWED.
• If the registered participant is unable to attend, a substitute is allowed to notify us one (1) week before the training day.
• If there is no substitution, a full course fee will be charged.

Venue
In the event of a change of venue, participants are advised to refer to the acceptance email sent one week prior to the commencement date.
Terms and conditions
• Based on all the above terms and conditions, CI Agile reserves the right to amend these terms and conditions without prior notice.
General Enquiry
Please feel free to write to

[email protected]

if you have any enquiry or feedback
Created with